Are you looking for Tyres Size for your vehicle?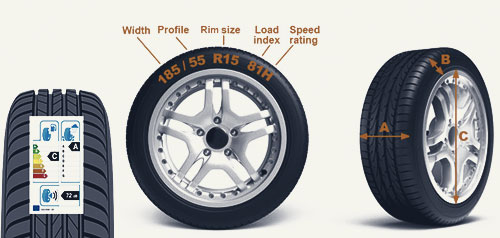 When buying a new set of car tyres, fitting the correct size to the vehicle is essential for your safety and the safety of those around you. The correct tyre size helps you enjoy maximum handling control and driving comfort, along with improved on-road safety, whilst also helping to improve your fuel economy.
Every tyre comes with its size details embossed on the sidewall. It is presented as an alphanumeric code. Understanding this alphanumeric code may seem difficult, but here at Reading Garage we have created the following guide to help make reading your tyre size easier. Please remember, if you have any problems or want further information regarding tyre sizes,
please call us on 0118 971 0261. Use this guide to help you buy tyres Beenham online from our website.
What does this alphanumeric size code mean?
The alphanumeric tyre size code specifies the sectional width, height, aspect ratio, speed rating, rim size and load rating of a tyre.
Use this tyre size as an example: 215/65 R16 98T.
215: The first set of numbers '215' implies the section width from one sidewall to another. It is measured in millimetres.
65: Next set of numbers denotes the profile height, a ratio of the sidewall height to the sectional width and represented as a percentage.
R: Letter 'R' denotes the type of construction, which in this case is radial. Other types are bias and diagonal; however, radial is the most common one.
16: This number denotes the wheel diameter onto which the tyre is fitted. It is measured in inches.
98: Next set of numbers represents this tyre's load rating. It indicates the maximum weight this tyre can bear, which, in this case, is equivalent to 750 kg.
T: The last letter of this combination, 'T', represents the maximum speed at which this tyre can be driven safely when correctly inflated. In this case, it is 190 kmph.
Our friendly team at Reading Garage are always on hand to assist with any queries you may have regarding tyres Beenham. Please call us on 0118 971 0261.