Are you looking for All Season Tyres Reading for your vehicle?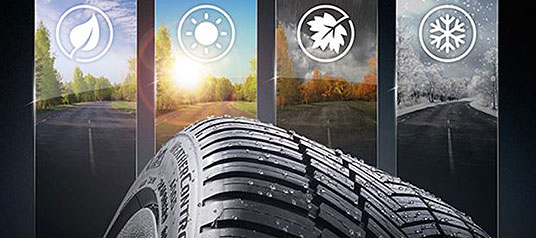 All-season tyres are designed to perform well in climates with moderate weather conditions all throughout the year. Here in the UK, the less severe winters alongside the moderate summers, make all-season tyres an ideal choice.
What are all season tyres
All-season tyres combine the benefits of both summer and winter tyres. These benefits ensure you can rely on your tyres all year round, no matter the weather.
They are made from hard and soft rubber compounds respectively and feature a moderate all-adaptive tread compound that is neither too hard nor too soft. This unique tread compound keeps the tyre flexible on both summer and winter roads and ensures superb manoeuvring properties and traction.
All season tyres Reading
have an intermediate tread depth and groove structure. This innovative tread design improves the tyres' road contact area to ensure improved traction on summer roads. It also efficiently disperses snow and slush away from the tyre surface during the winter months.
Benefits of all-season tyres
All year-round performance – All season tyres Beenham eliminate the need to change tyres during the winter and summer months, as they perform well in all moderate weather conditions.
Save you time and money – Eliminate the need of having both summer and winter tyres, saving you on tyres and fitting time and expenses.Best of both summer and winter tyres – it has better performance than a winter tyre in the summer months and has a better winter performance than a summer tyre in the winter months.
Reading Garage stock an impressive collection of premium, mid-range and budget all-season tyres, for a wide range of sizes and all budgets. We stock all season tyres Reading from quality brands such as:
A quick look into our best-selling all-season tyres Beenham
Bridgestone Ecopia EP422 Plus
Pirelli Cinturato All Season
Continental AllSeasonContact, etc
Unsure of which all-season tyre is best suited to your vehicle? Call our experts and we will be happy to advise.
Buy tyres online
Buy all-season tyres Reading easily online using our online tyre finder via our website. Simply search by your registration or tyre size and select 'all-season tyres' in the filter and book your tyres online today.
For all-season "tyres near me" contact Reading Garage for the best selection of tyres, and the best prices in Reading, Newbury and the surrounding areas.
Book an appointment with us today, ether online or by calling us. We can offer any advice or information regarding all-season tyres Beenham and advise on which all-season tyre would be best suited to your vehicle.
Call Reading Garage on 0118 971 0261, our friendly team are here to help.
Located on the A4 equidistant to both Reading and Newbury.